COVID-19 has already begun to strain and outright fracture the many longstanding fault lines across our country. Despite existential threats to their livelihoods and their audiences, journalists in the community media sector continue to offer the remedy to the disinformation and division that is coming to characterize the COVID-19 era.

In this special report on how the community media sector is reporting and responding to the pandemic, we will share continuing COVID-19 coverage from community media outlets that you won't find in mainstream media. On Wednesday, you can expect advance findings from our report-in-progress on immigrant media, highlighting the ways in which these media provide reliable information to communities where they may be the only – and only trusted – sources of news.

We will also share preliminary insights from our ongoing national needs assessment, which we are undertaking through one-on-one calls with publishers and editors; a survey we distributed through our partners in New York City, Chicago, and Los Angeles; and a series of virtual town hall meetings with community-based journalists. The first of these meetings will take place today, Friday, March 27, at 3 pm EST; sign up here to attend. We will share a video next week if you miss it.

Early findings illustrate the scope and impact of plummeting advertising dollars and shattered distribution systems. As we learn what outlets need, we'll develop programming and other resources to buoy outlets in crisis and bolster the sector as a whole.

In the meantime, we will continue to compile new grant opportunities, financial assistance programs, and tools and resources for journalism during social distancing. Finally, we will reflect on how the pandemic is affecting local news outlets in general.

In these dark days, we find some comfort in drawing your gaze to the beacons of clarity and insight reporting within and from the communities on the frontlines of the pandemic itself – and of the measures taken to contain its devastation.
Community Media Coverage
Immigrant Workers
As mainstream media outlets this week began to report on the impact of the pandemic on immigrant workers – particularly undocumented, low-wage, or service sector workers – the community media deepened its coverage with detailed reporting on the experiences of day laborers and street vendors seeking work and clients; delivery workers risking exposure to keep others at home; simultaneously "essential" and unprotected restaurant workers, and still other restaurant workers, who were forced to fend for themselves after closures.

Bracing for Impact
Community outlets opened a window into the specific needs and preparations of our society's most vulnerable. They reported on the need for guidance in Haitian Creole on accessing medical care regardless of immigration status, and despite fear of public charge rules, and how the rapidly spreading infection is disrupting life in the Haitian community. They showed how in Crown Heights, Brooklyn's Chabad is mobilizing against the virus, and how the pandemic is placing strains on LGBTQ youth shelters. And as the pandemic continued to claim lives, community media mourned the death of a Brooklyn principal.

Xenophobia and Discrimination Up Close
Community media brought particular nuance to wider coverage on xenophobia and discrimination, reporting on how Chinese American Trump supporters are responding to his insistence on calling COVID-19 the "Chinese Virus," and how the use of that term is impacting other Asian American communities. They reported that, even as crowds converge on major grocery store chains, Asian markets and grocery chains remain well-stocked and underused. And they quickly and incisively called out anti-Semitism directed at ultra-Orthodox Jewish communities.

Impact and Resilience
They went deep into the impact of pandemic containment strategies on businesses in different communities. They reported on Jamaican barber shops, and on Filipino-American businesses in the greater New York region and in LA County. They highlighted moments of resilience in the face of hardship, reporting on how community members were supporting businesses in Seattle's Chinatown-International District, how New York's Irish arts and community centers were rising to the challenge, and how Detroit's Jewish community was finding creative ways to pray.
Needs Assessment: Preliminary Findings

Since the early days of the pandemic, we have been undertaking a needs assessment with outlets across the country.

Declining Advertising Revenue
In our calls with publishers and in responses to our survey, outlets across the country tell us that drastic declines in advertising revenue from local businesses, city agencies, and even local school districts are threatening their businesses. One publication has lost a major hospital as an advertiser, because they have suspended research studies seeking participants. Of the about a hundred, mostly New York-based outlets, who've responded to our survey so far, 84% have reported a decline in advertising, with 25% reporting a decline of 75-100%.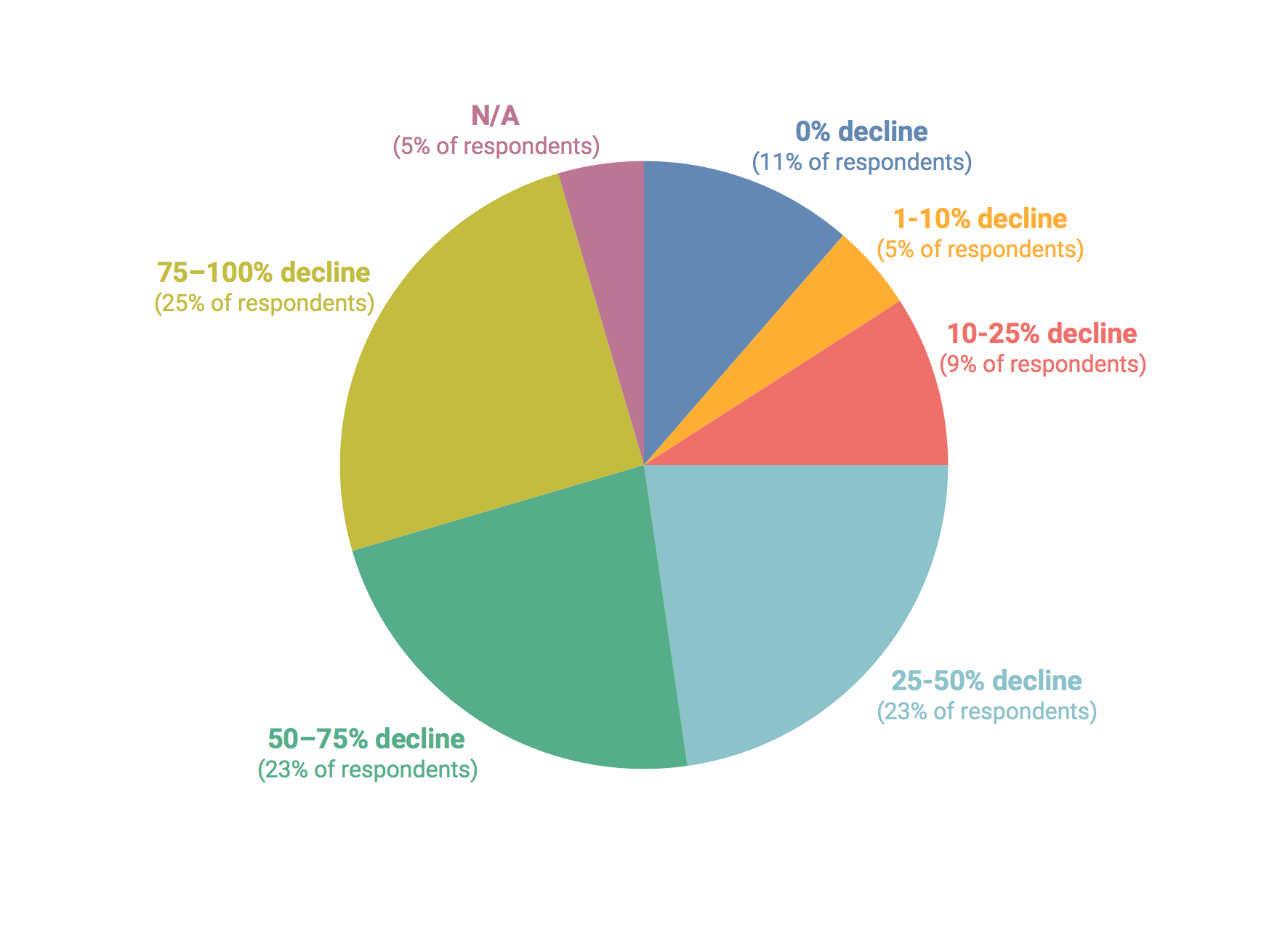 Outlets are responding to this lost income in different ways. At least 32 of the more than three dozen South Asian publications in the New York metro area have suspended their print editions. A publisher of a Jewish community weekly in New York City is now publishing fortnightly. Another media company that publishes two Spanish-language periodicals in the greater New York City region is planning layoffs. Still others are continuing to publish on their normal timetables, but are reducing their print runs: The president of a Long Island-based printing company that prints more than 100 community-based publications says he's seeing between a 10%-30% reduction in print orders, with the greatest print reduction in Korean-language publications.

Unprecedented Demand
The great irony of these financial hardships is that community media outlets are seeing unprecedented growth in their audiences. One editor in Brooklyn said online traffic had tripled during the last two weeks of pandemic coverage, and another Brooklyn-based publisher said online traffic had grown by 25%-40%. A Korean news channel based in New York reported an uptick in both phone calls to the station and in traffic on social media platforms, and a Bangladeshi news channel reported a spike in viewership.

A finding from our forthcoming report on immigrant media underscores that, in an age of disinformation and rumor, many community-based media outlets have been able to earn audience trust by providing accurate, reliable information.

The importance of this mission is borne out in survey responses and our calls. Publishers and news managers don't just tell us of their financial hardships, they convey to us a profound sense of urgency, even calling, to report to their communities. One editor of a Spanish-language newspaper in New York City said, "At this time when more relevant information is needed for the community, it is important to stay afloat and continue to provide informational services to our people." To supplement the publication's income, this editor has launched a web and graphic design operation from the publication's office.

Another publisher said, "We are working hard keeping our readers informed and we can feel their gratitude for doing so. We doubled our audience in two weeks. Our print copies fly from the racks on the same day we come out." At the same time, many advertisers have had to shutter their businesses and have canceled ads, forcing this publisher to explore new sources of funding in order to meet payroll.

On a recent Zoom meeting, community radio broadcasters in largely rural areas emphasized that they are often the sole news source for their listeners, many of whom are elderly, homebound, or in areas where mainstream news coverage is often irrelevant to their daily lives.

Distribution
Social distancing measures continue to disrupt distribution of a number of publications. Free and alt-weeklies that rely on local shops and businesses rather than street-corner publication boxes continue to struggle to get their publications to readers. Street papers, which are sold outdoors by people facing homelessness, have also suffered under social distancing. Declines in their circulation has the double impact of depriving their salespeople of much needed basic income.

One publisher of a street paper in Chicago explained the model: "The concept is to provide a product as an alternative to panhandling, so our customers can offer "a hand up, not a hand out" to their vendor. The vendors purchase the paper at cost, and sell it on the streets for retail value, effectively making each person who sells our magazine an entrepreneur with their own business. All of our vendors rely on magazine sales as a source of income. For many, this is their only source of income."
CCM Responds

CCM has pivoted to find new ways to support community media amid social distancing. We are sad to say that we will be suspending many of our planned events, conferences, and workshops, and are exploring new ways to connect members of our community and support outlets under threat of closure or layoffs.

Our planned Latino Media Summit will no longer take place at the Newmark J-School on June 12-13, but we will soon announce virtual sessions and complementary materials in its stead.

We are committed to continuing our ongoing advocacy for New York City-based publications to receive their share of city agencies' advertising budgets, as mandated by executive order. In lieu of training workshops, we will host a series of virtual trainings to help outlets prepare media kits and connect with agency marketing directors. If you are interested in this initiative, please email Darlie Gervais at [email protected] to learn more.

This week, we hosted a webinar on fighting online disinformation during the COVID-19 crisis. You can find a recording of this session here.
Resources
Grants and Funding Opportunities
The International Fact-Checking Network at Poynter is partnering with Facebook to offer flash grants of up to $50,000 for fact-checkers to combat COVID-19 misinformation, including for translation and multimedia projects. Applications due April 1, 2020. Learn more here.

The Pulitzer Center on Crisis Reporting is seeking proposals for innovative approaches to reporting on COVID-19 using collaboration across state lines or national borders. The opportunity is open to all newsrooms and independent journalists. Learn how to apply here.

The Broadcasters Foundation of America provides Emergency and Disaster Grants to radio and television broadcasters nationwide. More information is available here.

Local Opportunities
The Columbus Fund has activated an Emergency Response Fund to support nonprofit organizations based in Franklin County, Ohio. More information can be found here.

Syracuse, New York has announced a $500,000 fund to provide zero-percent-interest emergency loans to local small businesses impacted by COVID-19. Details are available here.

New York City is offering financial assistance to small businesses impacted by COVID-19. Information on different programs and opportunities can be found here.

We are compiling a list of local opportunities and funding resources, so if you know of any new grants or financial assistance initiatives in your town or locality, please forward them to [email protected].

Other Tools and Resources
The International Center for Journalism is offering a number of resources for covering the pandemic, including the newly launched Global Health Crisis Reporting Forum, which seeks to connect journalists, fact-checkers, and global public health experts on COVID-19.

Newmark J-School's Social Journalism program has compiled this resource guide for serving a community during a pandemic.

Greater Public is offering guidance on how public broadcasters can navigate fundraising during this time of economic hardship.
Food for Thought

How COVID-19 is impacting local media nationwide
The pandemic and containment efforts have crippled local news in general. A recent Nieman Lab report suggests that COVID-19 may be the end for many alt-weeklies in the country.

Across the country, local newsrooms are laying off staff or shuttering altogether. In the last week alone, there were reports of newsroom layoffs in Seattle, St. Louis, Tampa, Detroit, and San Antonio. A Miami-based publication announced a 25% pay cut and potential layoffs, and a publisher in Sacramento announced that their publication could soon close.

Still, as this great Twitter thread illustrates, community media are hustling to convey news to audiences that face technology, language, and other barriers to accessing mainstream news. As the pandemic continues to spread and create new hardships for communities and the journalists who serve them, we will continue to showcase the grit, resilience, and vitality of this sector.
Share with Us

We'd love to know what's making you think about community media in new ways too, so we encourage you to share any reports, databases, opportunities, or visualization projects you want us to know about. Please send them to our newsletter editor, Kavitha Rajagopalan:

[email protected]

.
Sign up for our newsletter.